Publication Library CD-ROM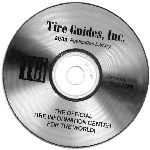 9 great publications available on CD-ROM!

---

Tire Guide - Tread Design Guide - Who Makes It & Where - The Tire Tech Guide - OEM Tire Size Guide - Plus Sizing Guide - Retread Code Book - Lug Nut Torque Chart - Tire Quality Grading Booklet

---

This product is not available for use or distribution outside the United States or Canada.

---

*We will replace any of our electronic media products (CD's and Flash Drives) within 15 days of purchase date if the product was shipped with a defect that prevents you from accessing the products electronic contents. Otherwise, there are no warranties, including no implied warranties of merchant ability or fitness for any use or purpose, and electronic media product sales and licenses are final and not returnable.
Browse through publications with the click of a button.
"Find" specific brands, models & sizes in seconds.
Click on index listing for instant navigation.
No customizing available - book format only!
Contact us for multi-user pricing.