Old Timers Tire Guide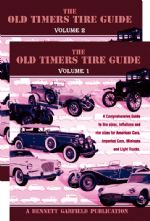 8th Edition. Two Volume Set-covering years 1926-2015. A Complete History of Original Equipment Tire Sizes going back 90 years
Two Volume Set-covering years 1926-2015
A Complete History of Original Equipment Tire Sizes going back 90 years.
Includes Tire Fitment Information, Rim Sizing and Inflation Specifications.
Covers American Cars, Imported Cars and Minivans.
Also includes a completely revised and updated Light Truck Section.
Over 700 full pages per volume with a Table of Contents and Index for ease of use.
Comes with a listing of both Domestic and Foreign Antique and Odd-Size Tire Dealers.
| Price | Quantity |
| --- | --- |
| $129.95 | 1 - 9 |
| $119.95 | 10 - 49 |
| $109.95 | 50 - 99 |
| $99.95 | 100 - 499 |
| $89.95 | 500 - 1000 |