Tire Guide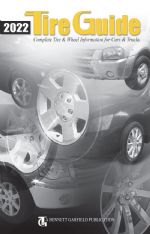 Complete tire and wheel fitment for cars and trucks listed by year/make/model.
Publication containing Complete Tire & Rim Specifications for cars and light trucks.
Revised & Updated Yearly with the most accurate & complete information compiled directly from the vehicle manufacturers.
Table of Contents & Index make it the most quick & easy reference guide available.
Includes P-Metric & European Metric Conversion Charts.
Contains Load & Inflation Tables and Approved Rim Contour Charts provided by The Tire and Rim Association
Also includes Lug Nut Torque Specifications for Passenger Car and Light Truck Vehicles.
Rubber Manufacturers Association approved Rim Width & Tire Replacement Charts.
Other helpful charts & information such as Tire Speed Rating, Tire Rotation, Etc.
Known as "The Tire Industry Bible".
Back Issues Available.
| Price | Quantity |
| --- | --- |
| $23.95 | 1 - 4 |
| $22.95 | 5 - 9 |
| $21.95 | 10 - 24 |
| $20.95 | 25 - 99 |