Tread Design Guide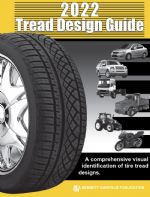 Shows tread patterns for all types of tires sold in the U.S.
A comprehensive Visual Identification of all types of Tire Tread Pattern Designs.
Covers Passenger, Light Truck and Medium Truck vehicles.
Includes Off-Road and Agricultural Tread Patterns.
Also covers Motorcycle and retread tire tread designs.
Provides information on how to read a tire sidewall and on the different Tire Sizing Systems.
Gives detailed information on Speed-Rating and Load Indexes as well as lug nut torque and tightening sequences.
Back Issues available.
| Price | Quantity |
| --- | --- |
| $31.95 | 1 - 4 |
| $30.95 | 5 - 9 |
| $29.95 | 10 - 24 |
| $28.95 | 25 - 99 |